This post is dedicated to the Obamas. The family. The Husband, the wife, the kids, and soon, the dog. That dog likely isn't payment enough for what that family will go through for the next 4-8 years. I wrote about Michelle Obama in a comment on another post and there are so many cool things out there I want to share, so here goes.
This short video is a cute and funny one about the Obama Fist Bump. Try as I might, I can't figure out how to embed this one. We've always enjoyed Jeanne Moos's pieces. This one is no exception. To see it,
click here
.
They also strike me as genuinely in love and I LOVE that. I actually teared up a little the first time I watched this video at the thought that there are hateful people out there who would ever consider hurting him just because of the color of his skin.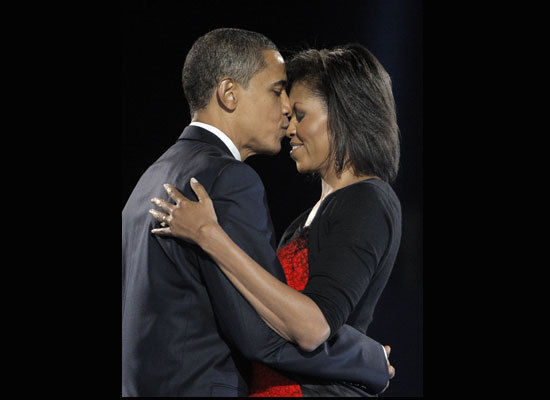 What would the world be like if everyone could be this in love? All political couples try to come across as in love. But with this couple, it's effortless. I absolutely believe they're the real deal.
This video that I posted the other day won an Emmy and I can see why:
I was going to post other videos of the two of them in love, but I can't choose--there are so many!! Browse YouTube. Some people have put together some very beautiful tributes.
As for Michelle, she's absolutely stunning. Beautiful inside and out. I love that she's our new First Lady (though her first commitment is to being "First Mom"). There is a wonderful write up about her on DailyKos that has a lot of pictures and background and really, fun personal tidbits. The post also links to many great articles about her. I think it's a great place to start learning more about her--a lot of what's said there is what I love about her, too. She's down to earth, strong, articulate, educated, hard-working, family-first, beautiful, open . . . I haven't EVER personally seen a First Lady quite like this one and I'm EXCITED!!
The story can be found
here
.
I highly, highly recommend it. Seriously, read it. Stop, go back, click the link, and check it out. You can see what a match she is for him. And the girls are both beautiful and adorable. They're trying to keep life as normal as possible for them, but it's not easy. They're the youngest kids to be in the White House for some time! It's so exciting.
We're attending a couple of neat things in the next few months. This week, we're going to Valley Forge and Washington's Crossing. Next week, we're going to Gettysburg to celebrate the 145th anniversary of the Gettysburg Address. Check out the events there that day and look who's speaking:
145th Anniversary of the Gettysburg Address - Dedication Day
An annual observation with brief memorial services in the Soldiers' National Cemetery starts with a wreath laying at 10:15 a.m. Sponsored by the Lincoln Fellowship of Pennsylvania, the Civil War Institute of Gettysburg College, and Gettysburg National Military Park. Keynote speaker: Ken Burns.
11:15 a.m. U.S. Colored Troops Graveside Salute at the Soldiers' National Cemetery; Speaker: Harry Bradshaw Matthews, Associate Dean and Director of the U. S. Pluralism Center at Hartwick College. U.S. ALBC Signature Event.
Next month, the Philadelphia Mint. And in January, President Obama's Inauguration. Whoever you voted for, no one can deny this is history in the making. The demand for tickets to the event is unprecedented. Buses are being charted all over the country--Florida, California, and more.
Hotels
are booked in D.C. for that day. We're lucky we live so close. The tickets are free and distributed through our local Congressmen and U.S. Senators. We've called and are on a waiting list with our Representatives and Senators as well. Anyone can attend the event, even without tickets, but tickets will get you closer. It's going to be PACKED! There are various events planned, including a parade, the speech itself (which is held outside on the steps of the Capitol), music, and more.
There is a really neat cartoon you can look at
here
:
President-Elect Obama's website says that the theme of his inaugural address will be "A New Birth of Freedom," words right from Abraham Lincoln's Gettysburg Address, as President Lincoln's 200th birthday will be celebrated just weeks after the inauguration. So, the two events (Gettysburg Celebration and Inauguration) kind of go hand in hand. We're so excited!!